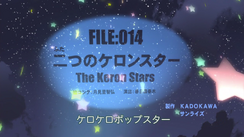 The Keron Starts A.K.A Two Keron Stars is the fourteenth episode of the new 2014 edition of Keroro Gunso, labelled
Keroro
.
Characters
Edit
Shivava originally appeared in Black★Star's introduction.
This episode marks the first appearance of Black★Star in the Keroro Flash Series.
This episode is not based on the chapters, it's an exclusive anime chapter.
This episode mark the first time we seen Shin Keroro's DRR-Style, TMM-Style AND GRR-Style in this series.
Dororo is absent in this episode, but the fake version of him appears.
The real Keroro didn't appear in this episode for 2 minutes before he appear at the end making him minor role.
Tomosu has one spoken line in this episode, making him playing a cameo.
Ad blocker interference detected!
Wikia is a free-to-use site that makes money from advertising. We have a modified experience for viewers using ad blockers

Wikia is not accessible if you've made further modifications. Remove the custom ad blocker rule(s) and the page will load as expected.