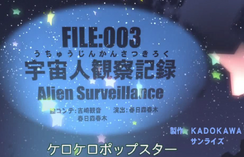 Alien Surveillance A.K.A Alien Observation in the third episode of the new 2014 edition of Keroro Gunso, labelled
Keroro
.
Characters
Edit
The Hinata's decided to give Keroro a room, so that the peace in the household would be maintained. However, Keroro decides to resume his invasion. Natsumi is worried about what Keroro is doing in his room, so Aki suggests that they observe him with a hidden camera. Natsumi seems pleased with the idea, but Fuyuki is uneasy about it. And to make things worse Aki places monitoring Keroro in Fuyuki's hands. Fuyuki, grudgingly, sets the camera up. He notices that all Keroro does is sleep, clean, and bother Natsumi. Fuyuki is a little disappointed at this fact, while Natsumi guesses he's just trying to settle in. Secretly, Keroro was actually videotaping the Hinatas, and tells them that they are video taping him far to early.
Differences
Edit
Ghost-Chan made an appearance in the original.
In the original, Keroro got his room because Aki wanted to see what would happen when a ghost and frog lived together, while in Keroro They gave him a room in return for him to help with the house work.
In the original Keroro didn't know about the Hinata's plans.
In Keroro, Aki was the one who proposed watching Keroro, while Natsumi proposed it in the original.
In the original, Aki, Keroro, Natsumi and Fuyuki watch the footage, while only Natsumi and Fuyuki watch the footage.
 The episode is a tribute to what happened in the third episode and the first episode of season one.

Omiyo made a short cameo on the wall of Keroro's room.
Keroro's star is missing two times when he wakes up and runs around his room.
Part of Keroro's mouth is uncolored when he lands on the bed.
Ad blocker interference detected!
Wikia is a free-to-use site that makes money from advertising. We have a modified experience for viewers using ad blockers

Wikia is not accessible if you've made further modifications. Remove the custom ad blocker rule(s) and the page will load as expected.