La Chambre de Keroro (English: Keroro's Room) is the first francophone website about Keroro Gunsou. Created by Pallas4 in 2007, it has not been updated since 2011, but stays a usefull mine of information.
Unlike the website, the forum La Chambre de Keroro is still active.  The community is not the biggest but forum members are passionate about the show and work hard to give a better image of Keroro in France. 
Website: http://keroro.pallas4.net/
Forum: http://keroro.super-forum.net/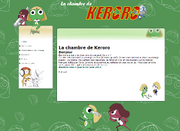 Ad blocker interference detected!
Wikia is a free-to-use site that makes money from advertising. We have a modified experience for viewers using ad blockers

Wikia is not accessible if you've made further modifications. Remove the custom ad blocker rule(s) and the page will load as expected.