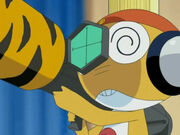 The Goblin Gun can make people into goblins. It first appeared in episode 43 when
Keroro
wanted
Kururu
to use it on
Natsumi Hinata
 to make her into a goblin, as revenge for her throwing soy beans at him. After making her into a Goblin, Keroro and
Tamama
(Anime Only) start throwing soy beans and other products at her. In the end
Giroro
, who is revealed to have been turned into a goblin himself, saves Natsumi from Keroro and Tamama, and thanks to
Fuyuki Hinata
, it turned out Natsumi was a Thunder God (Hence the Taiko Drums surounding Natsumi).
Karara
has also used it when she and
Taruru
(
Chiroro
in the manga) decided to try and invade
Pekopon
.
Ad blocker interference detected!
Wikia is a free-to-use site that makes money from advertising. We have a modified experience for viewers using ad blockers

Wikia is not accessible if you've made further modifications. Remove the custom ad blocker rule(s) and the page will load as expected.