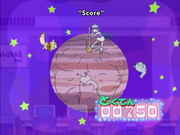 The Hellmageddon (黙示録撃, Harumagedon), sometimes referred as Armageddon or Apocalypse, is the ultimate attack of Angolans.
It can destroy a planet in a matter of seconds. There appear to be different levels of power used, however, and depending on said power level, an attack can do little to no damage.
Angol Mois - When not destroying a planet, Mois often uses a scaled-down version of this attack that can be as small as 1:10 trillion. Sometimes when she sees someone hitting Keroro, she transforms and uses this version of Hellmageddon, which usually catches others, including Keroro, in the blast. Once, she almost used a scaled-up version (100:1) when she was angered. To execute the attack, she slams the meteorite end of her Lucifer Spear into the ground. The most common reason for her to use the Hellmageddon ability is when someone in any way threatens Keroro.
Ad blocker interference detected!
Wikia is a free-to-use site that makes money from advertising. We have a modified experience for viewers using ad blockers

Wikia is not accessible if you've made further modifications. Remove the custom ad blocker rule(s) and the page will load as expected.