Ad blocker interference detected!
Wikia is a free-to-use site that makes money from advertising. We have a modified experience for viewers using ad blockers

Wikia is not accessible if you've made further modifications. Remove the custom ad blocker rule(s) and the page will load as expected.
Impossible Dark Miracle
(

ありえないくらい奇跡

Arienai Kurai Kiseki

)
is a single by
Ayano Tsuji
and the
Beat Crusaders
. The title song is the ending song of the anime movie
Keroro Gunso the Super Movie 3: Keroro vs. Keroro Great Sky Duel de arimasu!
.
Information
Edit
Track listing
Edit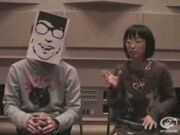 Impossible Dark Miracle (ありえないくらい奇跡, Arienai Kurai Kiseki)
Impossible Dark Miracle (Dance Man Remix) (

ありえないくらい奇跡(ダンス☆マン Remix)

Arienai Kurai Kiseki (Dansu Man Remix)

)
Impossible Dark Miracle (Instrumental) (

ありえないくらい奇跡(Instrumental)

)
Become Wind ~Everybody's Ukelele Compilation~ (

風になる~みんなでウクレレ編~

) (Ayano Tsuji's Bonus Track)
~As long you here, as long you here.~
~Wherever you may be, wherever you may be. ~
~We'll be able to hold hands. ~
~Today you not used to being honest like always.~
~You don't change, yet you've become nicer.~
~Important things are rigth there as long as you open the window.~ 
~The setting sun is a depressing red, yet you smiled at me.~
~I'll give to a hug.~ 
~Whenver you want to cry.~
~My small chest may not be reliable.~
~But the most important thing in the world is you sparkle.~
~It's always the same, yet you still forgive me.~
~I'll always be there for you, that's why.~ 
~Forever...forever...~
~If we can't start over...~
~Instead of crying, you'll be smiling.~
~It's unbelievable, this miracle.~
~The thing I love about this world was meeting you.~
~This miracle fills up my heart and the universe.~
~I'm not alone anymore.~
~Since you're here, always.~
~My small chest may not be reliable,~
~But the most important thing in the world is you sparkle.~
~It's always the same, yet you still frogive me.~
~I'll always be there for you, that's why.~
~Forever...forever...~
~Forever..forever.~