Junichi Sato
(

佐藤 順一

Satō Jun'ichi

)
is a Japanese anime director. He has directed many well known animes, such as Sailor Moon and Kaleido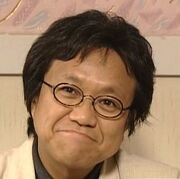 Star. He and his friend Toru Suzuki were arrested and jailed for 26 days in 2008 when they uncovered a whale based conspiracy.  He also goes by other names, such as the pen name Sakura Hikawa he uses when he writes songs for animes.
His nickname is Satojun (サトジュン, Satojun)
Nicknames
Edit
Sakura Hikawa (

ひかわさくら

Hikawa Sakura

) - pen name when writing songs for Ojamajo Doremi, Keroro Gunso and others
Hajime Tenjo (

天上はじめ

Tenjou Hajime

)
Kiichi Hadame (

甚目 喜一

Hadame Kiichi

)
External links
Edit
Ad blocker interference detected!
Wikia is a free-to-use site that makes money from advertising. We have a modified experience for viewers using ad blockers

Wikia is not accessible if you've made further modifications. Remove the custom ad blocker rule(s) and the page will load as expected.