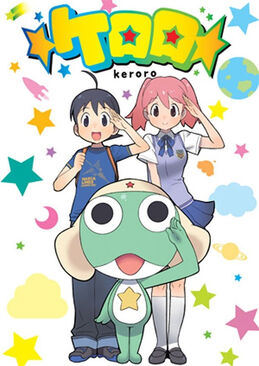 Keroro (ケロロ, Keroro) is a Flash anime that first aired on March 22nd 2014 on Animax and had all of the original voice cast team from Keroro Gunso reprise their roles except for Tomoko Kawakami who passed away from Ovarian Cancer in 2011. They were aired on the segment "Keroro Hour", and they are shorts with an average duration of 3 minutes.
Sunrise, which had worked on the Past Keroro Gunso anime TV/Film Series, produces the series in cooperation with the Flash animation company Gathering.
The series was originally announced at the "Keroro Birthday & New Project Presentation" Event in Tokyo on December 9th 2013. The Theme Song is called "Keroro Pop Star"
It ended on September 6th, 2014, though it was hinted that a new season would begin sometime in the future.
Characters
Edit
Shin Keroro and Black★Star: Aoi Yuki
Alisa Southerncross: Akiko Yajima
Momoka Nishizawa: Haruna Ikezawa
Episodes
Edit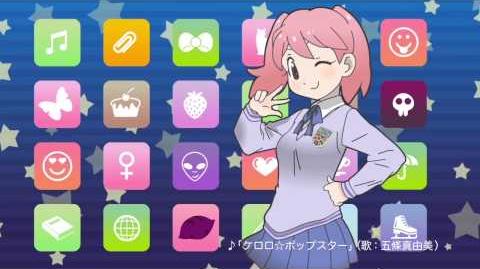 Fuyuki looks much younger in this series, making him look more like a sixth grader
This series is much more based on the original manga and also includes tribute episodes from the original anime
Just like in the manga, the animation has thick outlines and thin lines inside

The show also features realistic 3D backgrounds, similar to Archer.

Many fans mistook this series as a continuation of the old series, although it is not
The characters' designs are more based off of their designs in the manga
The reason why these episodes are called Files is because that files refers to downloads or saving things, because this anime is animated with Flash
The KS on Natsumi's shirt disappears multiple times during the series
The Kissho Academy school uniforms are not present in the Flash series, except for one episode in which Momoka is briefly shown wearing one
This is the only anime animated with Flash
See Also
Edit
Ad blocker interference detected!
Wikia is a free-to-use site that makes money from advertising. We have a modified experience for viewers using ad blockers

Wikia is not accessible if you've made further modifications. Remove the custom ad blocker rule(s) and the page will load as expected.