Kitten (子猫, Koneko), known as Ms. Furbottom(in the Funimation dub) is a female kitten that lives in Giroro's tent.
Character
Edit
Kitten was a stray cat that was taken in by Giroro. She grows very mutual to Giroro and eventually had a crush on him. Giroro is rather affectionate to her and lets her stay with him. She continually makes cameos next to Giroro, usually in brief scenes. However, because of Giroro's affection for Natsumi, she has developed jealousy of Natsumi and shows aggression to Natsumi, much to her confusion. However, it seems Kitten seems more mad that Natsumi does not notice Giroro's affection rather than stealing it from Giroro.
Relationships
Edit
Transformations
Edit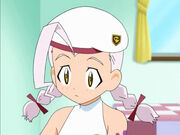 Kitten, on some episodes, was transformed into a human by the We can make everyone alive gun.[1] The design of her human form is different between the anime and the manga. In the manga, Neko does not have a cat tail, while in the anime, she does not have cat ears. In this form she resembles Cammy from Street Fighter with her hair and clothing.
Because of being love rivals with Natsumi, she hates her. In the manga when the kitten was turned into a human (because of the "Animals Into Soldiers Gun"), she called Natsumi a dumb broad.
She seems to really like seaweed
References
Edit
Pekoponians and aliens living among them
 

Kissho Academy
1-B (Fuyuki's Classmates)
2-A (Natsumi's Classmates)
2-B
Manga club
NW club / KGS
Other students
Faculty
 

Animals and Plants

General
Super Insects