In Keroro Gunso, MorePeachSummer, sometimes MorePeachSummerSnow, is a vocal group.
The name is derived from each of the girls' names. "Moa" is the Japanese pronunciation of Mois' name, but can also be the Japanese pronunciation of the word "more." The "momo" in Momoka's name means "peach" in Japanese; likewise, the "natsu" in Natsumi's name means "summer" in Japanese. Last, the "yuki" in Koyuki's name means "snow" in Japanese.
MorePeachSummer
Edit
MorePeachSummer (モアピーチサマー, MoaPīchiSamā) is composed of Angol Mois, Momoka Nishizawa, and Natsumi Hinata. In their debut as a group, they tried to steal a painting of Momoka as a naked baby.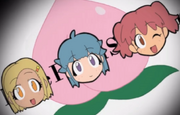 In a way it seems odd that Koyuki's "Snow" was not included in the team name as she was featured at the end of the episode and was a deciding factor in MorePeachSummer's escape, appearing in a hot air baloon and telling the others to jump out the window with the painting.
MorePeachSummerSnow
Edit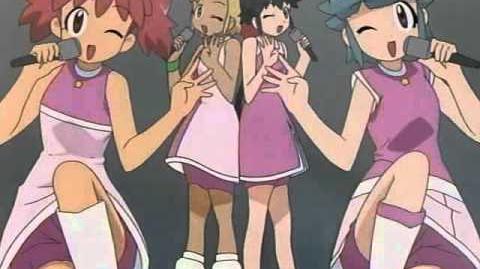 MorePeachSummerSnow
(

モアピーチサマースノー

MoaPīchiSamāSunō

)
is composed of the original members of MorePeachSummer and
Koyuki Azumaya
. With the help of
Dance Man
, they drove away
Dasonu Maso
. They later teamed up again to steal back a box of chocolate
556
mistakenly took.
MorePeachSummerSnow and Pururu
Edit
MorePeachSummerSnow and Pururu (モアピーチサマースノーアンドプルル, MoaPīchiSamāSunō ando Pururu) is composed of the original members of MorePeachSummerSnow and Pururu. All five girls fought for the "Toramon Ball" that can grant your wish at episode 201.
Pekoponians and aliens living among them
 

Kissho Academy
1-B (Fuyuki's Classmates)
2-A (Natsumi's Classmates)
2-B
Manga club
NW club / KGS
Other students
Faculty
 

Animals and Plants

General
Super Insects