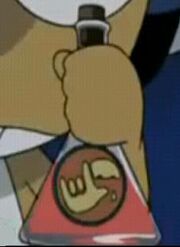 The Parasite Miracle GP01 is a nanomachine that allows inanimate objects to have thoughts. Kururu made a prototype that made the Hinata residence come alive in episode 86.
It has a very short lifespan, which is why Kururu says he can't use it.
He also denies the fact that even with the house gaining thoughts of its own from the nanomachines, it couldn't have a heart. This doesn't convince Fuyuki very much. At the end, the house had written on the floor "Please take care of us from now on."
Ad blocker interference detected!
Wikia is a free-to-use site that makes money from advertising. We have a modified experience for viewers using ad blockers

Wikia is not accessible if you've made further modifications. Remove the custom ad blocker rule(s) and the page will load as expected.