Rinono
(

リノノ

)
is
Shupepe
and
Kururu
's sister who appears in
Chibi Kero: Secret of the Kero Ball!?
.
She is with Kururu and Shupepe when Kururu finds the Kero Ball. She made a small cameo appearance alongside Shupepe and Pururu before leaving with the school bus.
Appearance
Edit
She is pale orange in color, wears a pink hat with a red bow on the right side. Her symbol is a bow that is orange on her belly and light pink on her hat.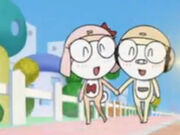 Keronians
Keron Army
Artificial Keronians

Kiruru (

→

)

 

 

Keroro Land
Characters

 

Volumes 1 - 10

Volume 1
Volume 2
Volume 3
Volume 4
Volume 5
Volume 6
Volume 7
Volume 8
Volume 9
Volume 10

 

Volumes 11 - 20

Volume 11
Volume 12
Volume 13
Volume 14
Volume 15
Volume 16
Volume 17
Volume 18
Volume 19
Volume 20

 

Volumes 21 - 30

Volume 21
Volume 22
Volume 23
Volume 24
Volume 25
Volume 26
Volume 27
Volume 28
Volume 29
Volume 30

 

Volume 31 - 40

Volume 31
Volume 32
Volume 33
Volume 34
Volume 35
Volume 37
Volume 38
Volume 39
Volume 40

Characters → Keronians → Keroro Land

Characters → Keronians