Rinono
(

リノノ

)
is a childhood friend of
Shupepe
and
Kururu
who appears in
Chibi Kero: Secret of the Kero Ball!?
.
She is with Kururu and Shupepe when Kururu finds the Kero Ball. She was curious as to if Kururu would follow behind both her and Shupepe, and after Kururu said to walk on ahead the two quickly left. She made a small cameo appearance alongside Shupepe and Pururu before leaving with the school bus in Episode 197.
Appearance
Edit
She is pale orange in color, wears a pink hat with a red bow on the right side. Her symbol is a bow that is orange on her belly and light pink on her hat.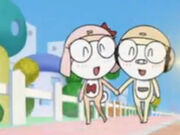 Keronians
Keron Army
Artificial Keronians

Kiruru (

→

)

 

 

Keroro Land
Characters

 

Volumes 1 - 10

Volume 1
Volume 2
Volume 3
Volume 4
Volume 5
Volume 6
Volume 7
Volume 8
Volume 9
Volume 10

 

Volumes 11 - 20

Volume 11
Volume 12
Volume 13
Volume 14
Volume 15
Volume 16
Volume 17
Volume 18
Volume 19
Volume 20

 

Volumes 21 - 30

Volume 21
Volume 22
Volume 23
Volume 24
Volume 25
Volume 26
Volume 27
Volume 28
Volume 29
Volume 30

 

Volume 31 - 40

Volume 31
Volume 32
Volume 33
Volume 34
Volume 35
Volume 37
Volume 38
Volume 39
Volume 40

Characters → Keronians → Keroro Land

Characters → Keronians