Sgt. Frog (Funimation)
Comments

0
1,356pages on
this wiki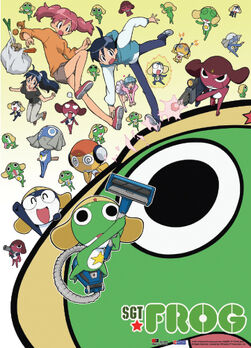 Funimation Entertainment holds the rights to Keroro Gunso in North America, Australia, and the UK, where they are currently releasing their English Adaptation under the name SGT. FROG (from the Tokyopop adaptation of the manga). Their English version is produced on a much higher budget than the
Animax English Adaptation
for Southeast Asia.
ADV Films had initially licensed the series for a North American release back in 2006, but the rights were pulled and handed to Funimation when ADV began to run into deep financial trouble.
Funimation initially released a ten minute "Test" dub sample episode of Sgt. Frog to YouTube and received mixed reviews for the changing of characters' names, as well as some voice acting. The first 5 episodes of the official dub was screened at an anime convention, and was much more well received than the test episode for the restoring of all original character names, revised voice cast, and staying more true to the original script.
Differences from the original anime
Edit
Koneko has been renamed Ms. Furbottom
Many jokes and references to other media were changed to appeal more to the American audience.
The year has been changed to 2009. (This is out of necessity as it was not released in America for quite long about after it was released. A calendar in Apocalypse Later remains labeled 2004, but Fuyuki uses this to make an amusing fourth wall joke.)
The narrator breaks the fourth wall more frequently.
DVD releases
Edit
Season 1 Part 1 (Episodes 1-13) - September 22, 2009
Season 1 Part 2 (Episodes 14-26) - November 24, 2009
Season 2 Part 1 (Episodes 27-39) - January 26, 2010
Season 2 Part 2 (Episodes 40-52) - March 30, 2010
Season 1 Complete (Episodes 1-26) - March 29, 2011
Season 2 Complete (Episodes 27-51) - April 26, 2011
Season 3 Part 1 (Episodes 53-67) - July 26, 2011
Season 3 Part 2 (Episodes 66-78) - August 16, 2011
Season 3 Complete (Episodes 52-78) - November 13, 2012
Voice cast
Edit
External links
Edit