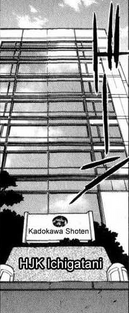 Shonen Kuro (少年黒, Shōnen Kurō) in the manga, Shonen Alpha (少年アルファ, Shōnen arufa) in the anime is the manga magazine where Aki Hinata has the position of chief Editor. It's a clear reference to Shonen Ace, the magazine that publishes the Keroro manga. Shounen Kuro is published by Kadokawa Shoten, the actual company that publishes the Keroro manga, while Shounen Ace is published by Kadoyama Shoten, a fictional counterpart of Kadokawa located in Oku Tokyo. It's behind many successful mangas and animated shows.
Notable works
Edit
A successful manga, turned anime created by Yoshizaki-sensei. Aki Hinata is the series' editor. It was one of Shonen Alpha's greatest hits. Keroro is a huge fan of it, buying most of the merchandise and watching the TV show daily. It ends with chapter 317. The last chapter cover features Captain Geroro walking off into space, back to the readers.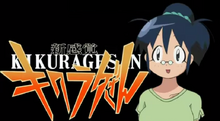 Chieftain Geroro
Edit
A manga series that runs in Shonen Kuro, inspired by Keroro's own exploits on Earth, thanks to Aki Hinata's influence.
Kikurage-san
Edit
A family comedy manga that soon would replace Captain Geroro according to Aki in episode 317. It's the fictional Yoshizaki-Sensei's newest series. The name and some promo art reference the Neon Genesis Evangelion franchise, but the art style and description of the series are closer to wikipedia:Sazae-san. Even the Sazae-san Syndrome is referenced.
In spite of supposedly replacing Captain Geroro, Captain Geroro still appears in Shounen Alpha covers throughout the anime's last season and Kikurage-san's manga pages are never shown. However, promo images for Kikurage-san's anime adaptation are shown throughout the 7th season, although there's never any glimpse at actual scenes from the series.
Unknown Action Manga
Edit
A Manga created by a Novice Manga Author. It was originally rejected in his first meeting with Aki, but later she accepts his series.