Shupepe (シュペペ, Shupepe) is Rinono's brother and Kururu's old elementary school friend, who appears in Chibi Kero: Secret of the Kero Ball!?.
Who is with Kururu along with Rinono when he finds the Kero Ball outside of Chibi Kero's hideout. He made a small cameo appearance alongside Rinono and Pururu before leaving with the school bus.
Appearance
Edit
He is a grayish-purple in color, wears a periwinkle hat, and has a bandage over his nose. Shupepe wears blue-rimmed headphones similar to those that Kururu wears as an adult. His symbol is a bandage that is blue on his belly and white on his hat. He has a tail which means he is a young keronian.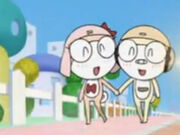 In one of the episode, he and sister features in their 2D models.
Shupepe appeared in his 2D model in episode 228, his name was changed to Shipepe for some reason.
 

 

Keronians
Keron Army
Artificial Keronians

Kiruru (

→

)

 

 

Keroro Land
Characters

 

Volumes 1 - 10

Volume 1
Volume 2
Volume 3
Volume 4
Volume 5
Volume 6
Volume 7
Volume 8
Volume 9
Volume 10

 

Volumes 11 - 20

Volume 11
Volume 12
Volume 13
Volume 14
Volume 15
Volume 16
Volume 17
Volume 18
Volume 19
Volume 20

 

Volumes 21 - 30

Volume 21
Volume 22
Volume 23
Volume 24
Volume 25
Volume 26
Volume 27
Volume 28
Volume 29
Volume 30

 

Volume 31 - 40

Volume 31
Volume 32
Volume 33
Volume 34
Volume 35
Volume 37
Volume 38
Volume 39
Volume 40

Characters → Keronians → Keroro Land

Characters → Keronians