Ad blocker interference detected!
Wikia is a free-to-use site that makes money from advertising. We have a modified experience for viewers using ad blockers

Wikia is not accessible if you've made further modifications. Remove the custom ad blocker rule(s) and the page will load as expected.
Tamama (タママ, Tamama) is the private second class (二等兵, nitouhei)[RANKS] of the Keroro Platoon in the series Keroro Gunso.
Character
Edit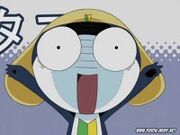 Tamama is ranked Private Second Class in the Keron Army's Keroro Platoon (ケロロ小隊 Keroro Shoutai). He is the newest member of the planetary invasion troop and also the youngest. His name stems from the Japanese word otamajakushi (オタマジャクシ), meaning tadpole. While his age is unknown, Etsuko Kozakura has stated that she voiced Tamama as someone who is 19 years old. He is a very faithful subordinate to Keroro, and has strong feelings towards him. It is heavily hinted in the anime that these feelings are romantic. After losing a match with Taruru, Taruru starts calling Tamama senpai instead of Master. Then after defeat in episode 103, Taruru starts to call him Master again.
Appearance
Edit
Tamama's body color is of a very dark blue in the anime and black in the manga. The symbol on his hat is the green-and-yellow wikipedia:Shoshinsha mark, which is used in Japan to designate a new driver, reflecting Tamama's young age, which is also apparent in his tadpole tail. The color of his afro, when seen, is red. In Kero 0: Depart! Assembly of Everyone!!, he originally wears a red tie with a wakaba symbol before he receives his symbol.
Personality
Edit
Tamama is possessed with a tendency to have mood swings that border on a
split personality
, like his partner
Momoka Nishizawa
. While usually gentle and cheerful, Tamama can become a vengeful, raving maniac at the drop of a hat
[1]
. This change is usually accompanied by the sound of a balloon popping.
Tamama is also prone to fits of jealousy, usually towards anyone who gets near Keroro (
especially
Angol Mois
, who he frequently refers to as "that woman")
[2]
.
Speech mannerisms
Edit
Tamama mostly ends his sentences with desū (ですぅ), a "cute" variant of desu (です), which is generally dropped when his other personality comes up.
Childhood
Edit
Having no powers at the time, Tamama was a commoner who witnessed the original Armpit Platoon's encounter with the Black Stars.
Before arriving on Pekopon, he first met Keroro in Keron in Kero 0: Depart! Assembly of Everyone!!. This was the first time he met Keroro. He quickly grew to idolize him and gained his powerful feelings towards him lasted throughout the years.
In the manga, volume 11, Tamama mentions Karara and Chiroro act like his brothers, maybe hinting that Tamama is the oldest of his siblings. Tamama is the youngest in the platoon; the 2nd youngest is Kururu.
Abilities
Edit
Tamama uses
chi
-like attacks in his fighting style. His standard energy attack is the
Tamama Impact
(in the Funimation dub, this move was changed to Tamama Crazy Breath or Tamama Smash, then later to Tamama Impact), where he spits a beam of energy out of his mouth. There are also more powerful versions such as
Hyper Tamama Impact
,
Neo Tamama Impact
(used only in the manga), and
Multiple Tamama Impact
(first used in the first movie and later in episode 149). Another of his attacks is the
Jealousy Ball
, a parody of the
Genki-dama
from
Dragon Ball Z
, where Tamama channels the ambient jealousy and hate of those around him. In one episode, Tamama befriended a young boy who played soccer, and developed a special kick based on the Jealousy ball, the
Jealousy Shot
. In one episode of the anime, he combined the Tamama Impact and the Jealousy Ball in a fight against
Paul Moriyama
, resulting in a red energy beam that carried the punch of a Jealousy Ball. Tamama has many other abilities, such as
Double Beam
,
Aichi Fist
,
Okayama Punch
, etc. In his "super" form, Tamama is given the ability to fly, the Tamama Impact is far more powerful, and he gains the ability to discharge a huge burst of energy strong enough to overpower
Taruru
's
Taruru Genocide GX
. In the manga, Tamama can also open up portals in
superspace
which he uses to jump from location to location instantly but only in places he knows. Tamama can also use his farts for attacks by either drinking a ton of cola or sucking up a lot of air or inflating his stomach. So far, this attack has been seen in episode 177, Warrior Kero: Debut and episode 228. It is shown that he is really strong. In episode 123b, he does pull ups easily while holding a rock almost as big as himself with his legs.
Dragon Tamama Tamama was the first to be turned into a dragon by Shion. As a dragon, Tamama resembles a Chinese dragon without the hind legs, his hat becomes two bushes of hair on the sides of his mouth. His main attack is the Tamama Impact.
Tamama likes junk food and sweets (especially candy, cake, soft drinks, and potato chips) and physical training (he has his own private training room in the Nishizawa Mansion). In the anime, Tamama is diagnosed by
Pururu
with high blood sugar because of his love of sweets.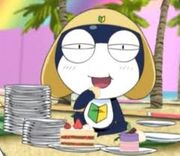 Tamama's least favorite sound is nails on a chalkboard. He also dislikes Angol Mois and often calls her "that woman" (あの女, ano onna) as he considers her a rival for Keroro's attention. Despite this, Mois seems blissfully unaware of Tamama's hatred towards her. According to episode 123 (where the Kawaru alien shows a person's biggest fear), Tamama's biggest fear (although he does not show much fear towards it) is seeing his lovely self. Along with the other members of the Keroro Platoon, Tamama is afraid of the Butt Firecracker (ケツ爆竹).
Relationships
Edit
Nishizawa Household
Edit
Calling Tamama
Edit
Name
What they call Tamama
What Tamama calls them
Keroro
Tamama (-nitou (lit. second class)/-kun)
Gunsou-san
Giroro
Tamama
Giroro-gochou / Giroro-senpai / Gochou-san / Red Daruma-san
Kululu
Tama-chan / Tamama / Brat / Tamama-senpai / Bouzu (

坊主

)
Kururu-senpai / -souchou / Yellow Guy (In episode 286)
Dororo
Tamama-dono / Tamama-kun
Dororo-heichou / -senpai / -san / Dorobune-senpai / Dorodango-senpai
Fuyuki
Tamama
Fu-ki (

フッキー

)
Natsumi
Tamama
Na-chi (

ナッチー

)
Aki
Tama-chan
Mama-san / Aki Mama-san
Akina
Tama-chan
Obaachan, Admiral
Momoka (right side)
Tama-chan
Momo-chi (

モモッチ

), Momo-Baby
Momoka (opposite side)
Tama-kou
Koyuki
Tamama-san
Ninja girl (ninja onna)
Paul
Tamama-dono
Paul
Saburo
Tamama
Saburo-senpai
Taruru
Tamama-shishou (lit. master), Senpai
Taruru
Mois
Tama-chan / Tamama-san
Mois / That woman (あの女 ano onna) / This woman (この女 kono onna) / That woman (その女 sono onna)
Karara
Tama-nii (lit. older brother), Darling
Karara
Pururu
Tamama-nitouhei
Obachan/Pururu/Old Woman (Obaa Chan) / Pururu-senpai / Pururu-kangochou
Joriri
Senpai
Joriri
References
Edit