The Hinata's House (日向の家, Hinata no ie) is the home of Aki, Natsumi and Fuyuki Hinata. The house also connects to Keroro's Underground Base.
Appearance
Edit
The Hinata's House is a two story building with a smaller shed to the left of the house. The walls of the house on the outside of are a light yellow-white and the roof is a light salmon pink.
The main entrance to the Hinata Household. This is where you take your outdoor shoes off and place on the slippers. Umbrellas and other outside equipment are here as well.
The main relaxing quarters for the Hinatas. They have two couches that face away from each other and a small table in the middle. They have a TV which is hooked up to many video game systems. It leads to the dining room and the entry way.
The dining room is where the Hinatas sit to eat and celebrate a special occasion (ex. a birthday or home return). It consists of a large wooden table covered with a light purple table cloth. The kitchen is located next to the table which includes a stove, a microwave, a sink and a refrigerator. There is also a large green shelf filled with plates and cups. It leads to the backyard and the laundry room.
The stairway up to the second floor, it is also connected to the basement and is the entrance to said area. The family phone is also located nearby as well as large phone books.
Fuyuki Hinata's main domain. He has a bed, and a large computer as well as a phone. He has a large bookshelf filled with all types of Occult books, and paranormal journals and findings. He also has movie posters draping his wall and a laundry basket. The sign on his door reads 'Winter'. His room also connects to the small balcony, though he keeps nothing on it.
Natsumi Hinata's Main Domain. She has a large bed, and multiple plushies on a wall. She has a silver radio she uses to listen to 623's Radio Channel. She has a small table in which it sits on. Her room also leads to a small balcony which is mainly empty. The sign on her door says 'Summer'.
A small balcony that connects both Natsumi and Fuyuki's rooms together. It has a clear veiw of the backyard, but has nothing on it.
A room used primarily when Aki is able to come home. She keeps Captain Geroro merchandise inside said room as well as family pictures. The sign on her door says 'Fall'.
A small bathroom located on the first floor. It consists of a large bathtub, a small sink and a pristine toilet.
A slightly larger bathroom located on the second floor. It has a sink, a shower and a toilet.
A small room used to wash clothes. A main hangout for Keroro when he cleans. There is a large washing machine and baskets filled with clothes clean and dirty. They are hung out to dry in the backyard.
The Guest Room is located on the first floor, near the main entrance. It has a big closet and some other things for visits. It's also used for parties and some special days on the Japanese calendar. Akina is a common user of this particular room.
A large room connected to the stairs. It can be accessed by a large ladder, it houses the power control system as well. It has one room with a green door which was used to store old stuff, it is now Keroro's Room. It is also haunted by Omiyo. The sign on the front is a yellow star. According to Aki in the Funimation dub, the basement was once a bomb shelter. [1]
Residents
Edit
Full Time Residents
Edit
Past Residents
Edit
Younger Aki Hinata
Omiyo (As a human.)
Mr. Kappa (Previous hiding spot.)
Haru Hinata (Usually absent; it is unknown if he actually lives in the house.)
Nuii (As Kuu-Chan, abandoned by Chibi Natsumi and Aki.)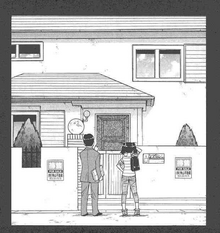 Temporary Residents
Edit
It is unknown where Mois stays in the Hinata House.
The house was built above a prison cell.
In Episode 86, the home was said to have thoughts and a heart by Fuyuki.
In the last episode of the flash anime, it is hinted that the house was built 35 years ago.
References
Edit