Ad blocker interference detected!
Wikia is a free-to-use site that makes money from advertising. We have a modified experience for viewers using ad blockers

Wikia is not accessible if you've made further modifications. Remove the custom ad blocker rule(s) and the page will load as expected.
X1
(
エックスワン
Ekkusu Wan
) was the Top Assassin team of the Keron Army. The team consisted of six members, but only three have been named: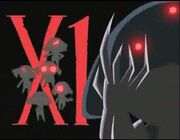 The group was mentioned for the first time in the anime, when Jirara challanged Dororo on Earth. In the present, it has been disbanded and Jirara is pursued as a criminal, although the reasons for the ending of the unit and Jirara's supposed crimes are known.
In a later manga chapter and anime episode, while meditating, Dororo remembered a conversation with Jirara, while other members of the Assassin unit stood far away from them.
 

 

Keronians
Keron Army
Artificial Keronians

Kiruru (

→

)

 

 

Keroro Land
Characters

 

Volumes 1 - 10

Volume 1
Volume 2
Volume 3
Volume 4
Volume 5
Volume 6
Volume 7
Volume 8
Volume 9
Volume 10

 

Volumes 11 - 20

Volume 11
Volume 12
Volume 13
Volume 14
Volume 15
Volume 16
Volume 17
Volume 18
Volume 19
Volume 20

 

Volumes 21 - 30

Volume 21
Volume 22
Volume 23
Volume 24
Volume 25
Volume 26
Volume 27
Volume 28
Volume 29
Volume 30

 

Volume 31 - 40

Volume 31
Volume 32
Volume 33
Volume 34
Volume 35
Volume 37
Volume 38
Volume 39
Volume 40

Characters → Keronians → Keroro Land

Characters → Keronians